Third- and fourth-year history students at the University of Waterloo and Wilfrid Laurier University are eligible to apply through their respective department for an annual $500 local history award offered by the Waterloo Historical Society. Along with the cash award is the possibility of having their paper published in the annual volume of the society. Waterloo Region history must be a significant aspect of the paper's research but the overall theme may take in a wider area.
The student or an instructor submits the paper to the department head and a decision on the winning student paper is made at that level. Waterloo Historical Society then receives a copy and presents the student with the award. At that time, publication is discussed with the student because, most of the time, further work is required to adapt the paper to publication standards. It is usually a shortened version of the original that is published in the annual volume.
For most students who have won awards, it is his or her first published work. These papers provide the society and future historians with thoroughly researched articles. A number of the award-winning papers that WHS has published through this program have broken new ground in regional history research.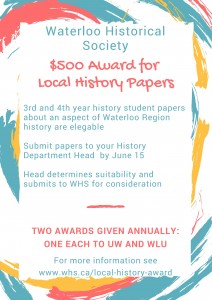 Winners of the award are:
 2001 University of Waterloo – Crystal Luxmore
Volume 89, "Power Tripping:  The Radical Student Movement at the University of Waterloo 1965-69"
 2002 University of Waterloo – Angela McLean
Volume 90, "A Place Called Bloomingdale:  Uncovering Two Hundred Years of Hisotry"
 2003 University of Waterloo – David Martin
Volume 91, "Mennonite Fundamentalism and the Hawkesville Brethren"
 2004 University of Waterloo – Angela Brown (not published)
"Berlin, Ont.:  The Tale of a German-Canadian City in World War I"
 2005 University of Waterloo – Andrew Kobus
Volume 93, "The Catharsis of Gemütlichkeit:  Explaining the Success of Kitchener's Oktoberfest in 1969"
 2006 Wilfrid Laurier University – Madelaine Morrison
Volume 94, "Playing Their Part:  The Role of the Kitchener Musical Society 1925 – 1950"
 2007 Wilfrid Laurier University – Natalie Rubino
Volume 95, "The Intruders:  The Impact of Coeducation on Waterloo College Between the Years 1929 – 1939"
 2011 University of Waterloo – Andrea Kennedy
Volume 99, "Remembering The World War Wrens:  A Bigger Picture of Galt's Past"
 2012 University of Waterloo – Erin Schuurs
Volume 100, "What's in a Name? Questions of Loyalty In Berlin, Ontario During World War One"
2014 Wilfrid Laurier University – Kayleigh Fleury (not published)
"The Rubber King:  An Evolution of A.R. Kaufman's Intentions and His Contributions to the Early Birth Control Movement."
2014 Wilfrid Laurier University – Matthew Rederer
Volume 102, "Waterloo College's Pre-World War II Experience:  Negotiating Pacifism and German Identities within the College Newspaper"
2014 University of Waterloo – Kellie Johnston
Volume 102, "No one will hold it against them if they keep the Old Country in their hearts:  The Breithaupt Family Resistance to Anti-German Sentiment in Berlin, Ontario, 1914-1916"
2020 Wilfrid Laurier University – Alaina Eelkema
Volume 108, "Women War Workers In Waterloo County During The Second World War"