Upcoming Meeting
Searching for Black Residents in Kitchener-Waterloo
Date:  Tuesday July 11, 2023
Time:  7:30 PM, doors open at 6:30PM
Location:  Victoria Park pavilion, 80 Schneider Avenue
Admission:  Free, all are welcome
Guest presenter is Peggy Plet who has spent years researching the almost hidden presence of Black citizens in the Waterloo County area.  She'll explain why this research is important, then talk about sources researched thus far, and lastly, outline the challenges that come with this kind of research.  Peggy begins with the earliest freedom seekers and works her way into the 20th century.
WHS member Len Curchin will give a brief outline of his newly published book, "Defence not Defiance: The Militia of Waterloo County 1812-1914" and he will have copies on sale.
The WHS Book Table will have a large selection for sale and members can browse during the 630-730 pre-meeting social time.
Publications chair rych mills will update the progress of the 2022 annual volume.
If the pavilion parking lot is full, there is more parking beyond the playground near the Iron Horse Trail.  For information contact rychmills@golden.net or 519-742-4990.
Mission/Goals
The Waterloo Historical Society fosters the recognition of our region's unique heritage and diligently encourages heritage preservation.
The Waterloo Historical Society documents the history of Waterloo Region, including the cities of Kitchener, Waterloo and Cambridge, along with the Townships of North Dumfries, Wellesley, Wilmot and Woolwich.
History
Active steps toward the establishment of a historical society in Waterloo County (now the Regional Municipality of Waterloo) were taken in 1912. With the encouragement of the Ontario Historical Society, a public meeting was held in November 1912, which resulted in a recommendation that the WHS be organized. The first meeting of the board was held on November 26, 1912.
100 years later
It has been 100 years since that modest beginning. The Society has grown to over 230 members (2009) and has a set of by-laws which govern activities carried out by the board of directors. Current activities include five public meetings each year with invited guest speakers and held in various locations within the region; since 1913, continuous publication of a volume of local history articles; quarterly newsletters; acquisition of documents and photos for WHS archives; and erecting historical plaques.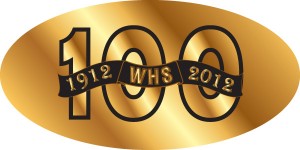 Affiliations
The WHS is an affiliate member of the Ontario Historical Society and a founding member of the Waterloo Regional Heritage Foundation. The WHS collaborates regularly with heritage and historical groups in the region.
Charitable status
WHS is a registered charity, under Canada Revenue Agency.
Heraldic Badge
Thanks to the generosity of James Roos Breithaupt, president of the WHS in 1997-1998, the society was granted a revised badge (based on the 1922 design by E. M. Chadwick of Toronto) by the Canadian Heraldic Authority.